Yay!! It's Friday! And this momma is ready to Daydream!! Link up your favorite vacation photos with
R We There Yet Mom's
Friday Daydreamin'!!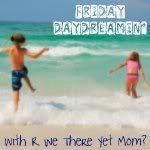 I have skied twice in my life - both as a teenager and both times I ended up on my rear the majority of the time. This winter, I want to go skiing.
Matt has gone skiing a number of time with a group of guys. He always brings back these amazing photos of gorgeous white powder peaks and cool, crisp air. I always end up jealous of the fun he had.
I want to find a fun snow suit (hot pink & black!!), find a fun condo with a hot tub (cause don't all ski trips involve a hot tub??) and GO!! The ski resort has to be in Colorado (cause I MUST visit my girl Connie on this trip) and we are going with just the 2 of us - no kids. Once I conquer ski school and the easy slopes (blue diamonds?? clearly, I don't know how to ski....), I will spend the majority of the day curled up by the fireplace in the lodge drinking hot cocoa with peppermint schnapps reading a good girlie book.
Sounds like a plan.