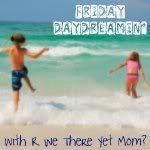 Did you know that it is National Parks week and you can get into any of the National Parks free this week? So I used my handy google to see how many National Parks are in Texas.
Ready for this?
Thirteen!! A ton more than I thought - I need to start working on this!
Lucky for us, we visited our first Texas National Park as a family over Spring Break - Lyndon Baines Johnson National Historical Park in Stonewall, Texas.
Lyndon B Johnson's family has ranched in the Central Texas area for years. Once he became President, LBJ continued to come to Texas, to the Texas White House. We toured the ranch, which included his boyhood school house, a replica of his childhood home, the barns where cattle are still raised today, and his wonderful home.
This picture is the view he hd looking out the front windows on his home - looking out onto the Pedernales River. It was such a calm and peaceful view.
Do you have a picture of a visit to a National Park you'd like to share? Post it and link up over at
R We There Yet Mom?
We love spending our Friday morning doing a little daydreamin'.