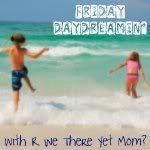 Happy Friday y'all! It's my favorite time of the bloggy week - I love looking at vacation & travel photos - I grab a big cup of coffee and dream away!
While at the Texas Ranger Hall of Fame and History Museum, my son spotted this in a display case.
"WOW- Mom, mom - look at this - is that real??"
A guide just happened to be standing there and confirmed for us that yes, indeed the $1000 was real. Apparently, it was printed in the mid 1930s and have been taken out of circulation due to the use of these high denominations in drug trafficking. Huh.
Pretty cool - tI just love it when my kiddos discover something cool that I would have breezed right past.