Yay!! It's Friday! And this momma is ready to Daydream!! Link up your favorite vacation photos with
R We There Yet Mom's
Friday Daydreamin'!!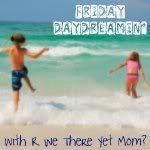 Today, I'm daydreamin' of a wonderful vacation the hubby and I took in 2006 to Costa Rica. We stayed in a lovely bungalow at the Four Seasons in the middle of nowhere. We faced the Pacific and had our doors on the patio open all night to smell the salty air and hear the pounding surf. It was wonderful.
But our most favorite thing to do?
We LOVED zip lining through the jungle - it was so much fun. The "trip" was comprised of a dozen lines to zip around the trail. The last one went over a HUGE gorge that was covered in lush green-ness - they encouraged us to lay back and enjoy it - it was a blast!
I hope you link up today - don't feel constrained to show us a picture of a vacation - it can be anything - from your favorite place to take the kids around town, to a board game on a recent "stay-cation". Your favorite meal to a family road trip. We just want to hear from you! So please
link up
today!