Yay!! It's Friday! And this momma is ready to Daydream!! Link up your favorite vacation photos with
R We There Yet Mom's
Friday Daydreamin'!!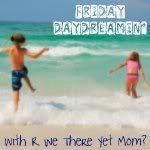 This week is all about Halloween!! Check out one of my favorite Halloween Photos:
2005 was the year that both kiddos were adamant as to what they wanted to be for Halloween. Sis wanted to be a cat - she loved them that year - and Brody wanted to be Thomas. But this momma wasn't settling for the cheapie-Party City Thomas - nope, I made this one myself - back when I was working full time and was crafty?? HUH?? Regardless, it was adorable and I still have it in a closet upstairs for Bubba.
Both kiddos exactly what they wanted to be? YES!
Both kiddos excited to really go Trick or Treating (like more than a block)? YEP!
Both kiddos OVERWHELMED with the amount of candy they collected? UH-HUH!!
Mom and Dad gaining 5 pounds each sneaking both kiddos candy? COULD BE?!?
Link up today over at
R We There Yet Mom?
I would love to see all your photos!! Couldn't ask for an easier blog post on Friday!!