Hi friends.
Just a little note to let you all know that I am giving away a My Memories Digital Scrap Booking Software Package at
R We There Yet Mom?
today.
I have seen a few friends giving this away out in bloggyville, and didn't really take notice - I think I figured I wouldn't use it.
But when I was offered the chance to have my own copy & try it out, I was really impressed. It is way too easy to make a scrapbook with it!!!
So I am
begging
encouraging
you to skip on over to
R We There Yet Mom?
and put a few comments in to win it - it is really a sweet program to win!!
Thank You!
begging
encouraging continues........
R We There Yet Mom?
also hosts an awesome meme on Fridays called "Friday Daydreamin'". It's a fun way to show us your favorite vacation pictures and daydream your Friday away. Definitely one of the easiest posts you'll do all week!! So get your posts ready to link up tomorrow.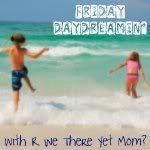 Ok, done "encouraging".
Thanks for the support y'all!