Yay! It's Friday and it's a 3 Day weekend!!! Double YAY!! So, I'm ready to enjoy my Friday morning with a little blog hopping .....Friday Daydreamin, here we come!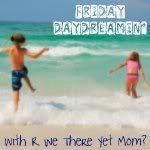 4 summers ago, Matt & I were blessed to go on a trip with a group of friends....from work......but that doesn't matter, they were all great friends. We went for a few days to Jackson Hole, WY in August. It was the perfect place to escape Texas heat. We hiked, saw wildlife, ate amazing food, laughed until our sides hurt, and took this little adventure.
Whitewater rafting. AHHHH! So excited. It was a blast and these were pretty tame rapids. We all squeezed our big bodies into these tiny wet suits and braved the freezing cold water. Brandon was brave enough to sit at the front, called "riding the bull" for this set of rapids. What happened next is what kept us in stitches all weekend.
One of our friends (who will remain nameless.....
Karen
..) actually fell out right after this picture was taken.
And the great thing? The photographer caught it all........
Check out her hubby's look of concern......he was worried about the hat being lost - forget poor Karen who was underneath the boat in freezing cold water......"where's my Cowboys hat?????"
Such a fun trip! Would go back with all these awesome folks in a heartbeat!
Join up for
Friday Daydreamin'
and tell us about your favorite vacation picture. Help make this meme a success!!!