Happy Friday Y'all! I am in the Big Apple right now - having a wonderful girls weekend......
BUT. That doesn't stop me from posting my Favorite vacation pic of the week. See, I'm cool like that - don't want to desert
R We There Yet Mom
's favorite Friday Linky party!! (plus, scheduling posts is easy-peasy!!)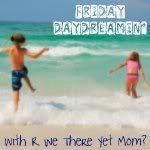 So, while I'm in New York, I will be dreamin' about my favorite time of year there....Christmas!!
I have been privileged enough to take 3 very fun trips to NYC during the Christmas Season. I love the city all dressed up in lights, Christmas Cheer, and snow!! We have seen the Rockette's fun show (a few times), looked at all the amazing Christmas windows, and even shopped at Macy's!!
It is the BEST time to go to New York - everyone is filled with Christmas Cheer!!
Join up for
Friday Daydreamin'
and tell us about your favorite vacation picture. It's the easiest post you'll ever do on a Friday!! Help make this meme a success!!!