Yay! It's Friday!! It has been a long and sad week, so we are ready for the weekend!! I'm ready to enjoy my Friday morning with a little blog hopping .....Friday Daydreamin, here we come!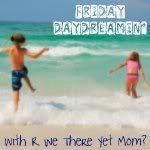 This Friday, I'm dreamin' about rain.
We haven't seen it in so long here in Texas, that this summer, while experiencing a complete downpour in Illinois, we acted a little crazy.
Ah, what I wouldn't give to go act a little crazy in the rain right now......
Join up for
Friday Daydreamin'
and tell us about your favorite vacation picture. Help make this meme a success!!!