Oh my friends. Where have I been you ask? (Ok- no one really asked, maybe that's my inner voice speaking). I have been
super duper
busy working (yes Matt, I call it working even though I love it) on my sister blog,
R We There Yet Mom
!! As we are heading into Spring Break time here in Central Texas, I have been blogging my little fingers to the bone to post all kinds of fun activities for families to do here in Texas. Whew! Every night I have been blogging - just over there..not here.
So sorry to say, I have been neglecting this sweet little tribute to my family! I have so much to catch up on too!! It's overwhelming, but as this is my chronicle of our family, I'm jumping in.
I was blessed to began writing regularly for
Quirky Momma
, a fun kids activity blog. I post every Monday afternoon, so please jump on over and show the love!! :)) My very first post was on planning a fantastic
Spring Break Staycation
. Go read it - it's awesome - I'll wait here for you.
So, wanting to go out and try new adventures with my kids AND finding all these AMAZING things to do in our local area (WHO KNEW??), the kids and I brainstormed and came up with a plan for next week!
So we mapped this out last weekend, and we have already discovered a few more things we weould like to do, so plans may change slightly, but here is how our week looks:
SUNDAY:
I was invited to a PBS Kids SXSW event for bloggers and am thrilled to go! But that afternoon, we will head to Pioneer Farms, a working farm here in Austin that is set in the 1880s with docents! So excited!
MONDAY:
SeaWorld San Antonio baby!! We haven't been since the kiddos were little!
TUESDAY:
Outdoor Austin Day- hiking up Mt. Bonnell (a local hike to see Austin & the surrounding lakes from a cool vantage point), ride the train at Zilker Park, picnic there, and then to our favorite
Austin candy shop
(weather permitting)!
WEDNESDAY:
The above schedule is to head an hour south of us to the Texas Wildlife Ranch (a drive-thru animal park) and then to the Grist Mill for lunch. But after researching all there is to do in
Waco
, we might head there for mammoth fossils, a children's museum, and a 100+ year old suspension bridge. We shall see what we feel like doing that day.
THURSDAY:
Out in the Hill Country lies a state park thatI went to as a child, LBJ Ranch, that features another 1800s settlement, LBJs vacation home and a beautiful park. There is a lot to do out in Fredericksburg (my favorite German town here in TX) that we will enjoy as well.
FRIDAY:
The olders and I are going on a "vanishing river cruise" on Lake Buchanan to spy some bald eagles and then touring Longhorn Caverns (another incredible cavern). Thanks mom!
SATURDAY:
We would like to hike
Enchanted Rock
again with Dad, but are going to play that one by ear - we may be exhausted by then!!
So that is our week in a nutshell! Who says you can't plan a fun week at home? And we get the best of both worlds - new adventures during the day and our own bed to sleep in at night.
But seriously, whey this busy of a week? Besides the fun places I will get to write about for R We There Yet Mom? Cause I love it - seriously - it is so much fun to explore new places to me. I can't wait to see the fun memories we create next week!
I am linking up to
Janette
who is asking us to show what "inspired" us to do something. Creating new memories with my kids has inspired me.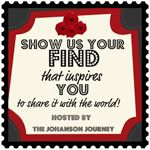 What a fun weekly topic to blog about - and she is creating a Pinterest Board to share all the inspiration! So cool! Thanks Janette!