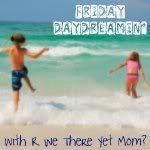 Wow, I can not believe how fast this week went by! We have had SO much fun this week! OUr Spring Break has been exhausting, with activities planned every day. But I wouldn't change it a bit - I have truly enjoyed every minute I spent exploring with my family.
In fact, it is Thursday morning, and we are packing to head to the lake for the weekend - fun things planned there - visiting LBJ Ranch, climbing Enchanted Rock, visiting Longhorn Caverns, getting some awesome pie......and more.
So, this Daydream is early...and not so much a daydream but a moment of Gratitude. I am so very thankful to have spent my Spring Break with my sweet family. We didn't have to go far to have a great time together.
What are you doing for Spring Break or what did you do? Tell us about it over at
R We There Yet Mom?
. Link open this evening! I'd love to hear your stories!!