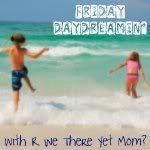 Spring Break starts in less than 12 hours!! As you saw from over at my sister site,
R We There Yet Mom
, we have a BIG Spring Break planned and I can't wait to get it started. I think the break from school and routine will rejuvenate us for the rest of the school year. But I am mainly excited to explore a few new places that we have never been to before.
Last year for Spring Break, we didn't get to do much - have you tried hauling a 1 1/2 year old around all day?- So we went to the Austin Rodeo and did a few things around home before heading to our beloved Oklahoma for a long weekend. We got out one morning and took a long hike through a nearby state park. It was awesome exploring new places.
Which is why I am looking forward to next week so much! I explained our plan here yesterday. It is a busy week but I know we can tackle it - like I have said over and over - it's about the fun while we are there and the memories we can take with us!
Here's hoping y'all have a fantastic Spring Break!