Hi friends. Did you all know I was in sales? And no matter how I try to quiet that saleswoman inside me with dinner menus, homework, laundry, and countless repeats of
Twinkle, Twinkle
, it simply won't disappear.
Which is why I juggle and can't stop.
Seriously. I can't.
Currently, I have a few balls in the air.........
I am a
momma of three
. (that carries a dozen balls in itself).
I am the
PTA President
of my children's school.
I started a DVD Photo Slideshow business called
Darling Memories
2 years ago. I make awesome movies out of your pictures for all events like birthdays, anniversaries, graduations, vacations, etc.
I created a Family Travel blog called
R We There Yet Mom?
that features travel stories and travel tips submitted by family travel experts....you.
And I am a
Thirty-One Consultant
. Thirty-One has awesome totes, purses, and organizational ideas that are adorable. I just saw our spring catalog this past weekend and it's so CUTE. Never heard of Thirty-One? Take a moment and look......
So, am I looking for a pat on the back? A "
how do you do it?? You are awesome!
"
Sounds like it huh??
no.
I am renewing my energy into these endeavors in a effort to make them successful (and provide a little income for our family.) and would LOVE your help. I simply can't sit still. I get a great deal of enjoyment working on and promoting the various brands I have created.
Shameless promotion? You may think so, but I see it as a fun lady (me)
sharing
all these unique and great ideas with her girlfriends (you). I mean, if you found the recipe for an amazing chocolate cake or a great deal on shoes, you wouldn't hesitate to share it, right?
So, I would love to
share my stuff
with you.......
Darling Memories
As I mentioned, I create DVD movies out of your photos. I LOVE LOVE LOVE making fun memories out of photos and have really enjoyed helping create them for the past few years. You can find out more by visiting my website at
www.darlingmemoriesdvd.com
and by liking our
Darling Memories Facebook Fan page
.
R We There Yet Mom?
This past summer, I created a family travel blog to highlight one of the things I enjoy most....family travel. It features family travel stories and tips from my readers. I really enjoy sharing other families travel with everyone and am always looking for YOUR travel stories. If you have posted a great travel story in the past or want to share a fun adventure from your area (think museums, state parks, etc.), please let me know! We are always looking for new content.
I also host a Friday meme called "Friday Daydreamin'" where you post a picture of a place you are daydreaming about - a past vacation, a dream vacation, the best cup of coffee you ever had, a local spot you love to go to with the kids - tell us a little about it and link up. It is the easiest post you can do on a Friday!! And so fun to see all the different locations everyone daydreams about!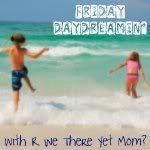 You can check out this
amazing
website by clicking
www.rwethereyetmom.com
. Go ahead a bookmark it and visit often. Or even easier, like our
Facebook fan page
to see when new content is added and visit when you see something you like - I promise NOT to fill up your facebook wall!!
Why should you do any of this?
You don't have to. I'm not twisting your arm. But as any good salesman would try........ I would love to have your support of either of my businesses. As a stay at home mom, these 2 ventures allow me to not only make a little supplemental income, but keeps my mind busy. Don't get me wrong...I love being home with my kids AND working on, writing, and promoting my 2 businesses. Keeps me incredibly happy. And your support of them keep me happy.
As a thank you for your support, I am giving away 5 gift cards (Starbucks, Sonic, or Target - your choice!) to 5 lucky winners.
Interested? How can YOU win?
Easy! Enter a comment for each of the below. You will get one entry for each one.
1. Become a
Follower of R We There Yet Mom
. (if you already are, let me know!)
2. Like
R We There Yet Mom's Facebook Page
. (If you already are, let me know!)
3. Follow
RWeThereYetMom
on the Twitter. (If you already are, let me know!)
4. Link up a picture of this Friday's Friday Daydreamin' for 5 entries!! (I'll keep track!)
5. Submit a travel story for R We There Yet Mom for 10 entries!!
Email me!
6.
Email me
your favorite travel picture(s) from 2011 (for a fun movie I am making for the website) for 5 entires!!
Click here for more details on this fun opportunity!
7. Become a
Follower of Darling Memories
. (if you already are, let me know!)
9. Follow
Darlin_Memories
on the Twitter. (If you already are, let me know!)

10. Post on your blog of Facebook wall or Tweet about this giveaway for 5 entries!

Many easy ways to get multiple entries!!!


Contest ends Sunday, January 15, 2012 at midnight (CST). I will announce the winners on Monday morning.
Is it a bribe? Call it what you want - I just appreciate you & your support!! XOXO