Happy Friday!! I am so excited for Friday Daydreamin'! I love trolling the internetz with my hot coffee in the morning looking at all your daydreams!! SO hurry - post yours and link up!!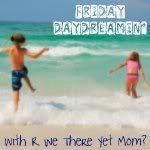 The weather has been sunny most afternoons this week here in Texas which has me longing for Spring (yes, I know it is only January 27th!). So, I am daydreamin' about our Spring Break plans already. We are probably not traveling this Spring, but I want to create some fun for the kiddos, so I am looking for fun outdoor (and inexpensive) things to do over the holiday.
The Spring Break before Bubba came, we planned a day trip every day and had so much fun doing it. One day, we took a tour of the Texas State Capitol and had a great time. The building is BEAUTIFUL - made of Texas red granite - and has a wonderful museum to hear all about the history. The kids really enjoyed walking around the inside to see how HUGE it is. At the time, they were a bit too young to grasp the relevancy of it all, but it was a wonderful day none-the-less.
My hope is to plan another fun-filled Spring Break this year!!