Happy Friday!! I am so excited the Friday Daydreamin' is back! I love trolling the internetz with my hot coffee in the morning looking at all your daydreams!! SO hurry - post yours and link up!!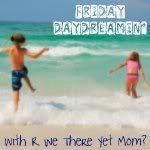 Today, it is cold. So I am daydreamin' about someplace warm. Anyplace warm. Like here:
Yep. I love the beach and we are just starting to talk about making it an annual trip and going again. Hopefully, this year, Bubba won't be so frightened of the water and irritated by the sand and wanting to drink a gajillion juice boxes all day..... despite all this, it was incredibly relaxing and WARM.
Link up your favorite vacation picture over at
R We There Yet Mom?
. What are you waiting for? Start Daydreamin'!!
*****************************************
Don't forget that 5 gift cards are up for grabs - simply like my other businesses on the facebook and the twitter to enter in for a gift card- Click here and get registered now!