Each year, I anxiously await the kid's "Santa Letters". I give them no help, just the encouragement to write them via Day 3 of the Advent Calendar. I seriously love their creativity and it just gets better & better each year.
This year, they topped themselves. I am seriously in love with these kids and they way they go about "asking" for presents:
"If you are asking what I want for Christmas, here it is!" or "Thank you for your time & consideration".
Ever the polite girl.....
Not this one:
So he asks me, can you please can this letter in and email it to Santa? I want to keep the original here for him to sign? Um, sure buddy......
So, an iPad AND a Go-Cart? When did my 10 & 9 year old jump to the "expensive gifts"??? Wasn't it just yesterday they were asking for Littlest Pet Shops and Thomas the Train Sets????
We have had several conversations about why Santa might not bring these items.....Santa has a budget, Santa & Mom have to agree on presents, Santa might not be able to get his hands on an iPad...... I don't want them getting their hopes up when Santa might not be able to deliver.....
Sis, ever the clever one, had a conversation with me about this on Saturday.....
Mom, why can't Santa just make me an iPad? Like, go out into his woods and get all the material he needs??
Yeah Apple, why can't Santa make her an iPad????
Yes, she is in 5th grade, yes, she should know by now, and yes, this mom still loves that she believes (she has 2 younger brothers y'all - if she asks, I'll tell her!!). So there. How do I explain this one? Cause believe me, Santa has a budget in this family of 3 children!
Linking up with my girls,
Shawn
&
Impulsive
for Talk To Us Tuesday.....give me your advice Mommas!!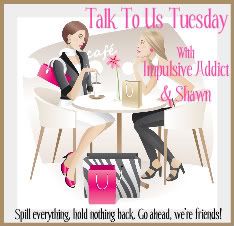 On another note.....
Do you have a past post about Holiday travel or Holiday events in your area? R We There Yet Mom is looking to post about Holiday events that you have done! Super easy, especially if you have already written a post about it, and it's a great way to get traffic back to you & your blog! Let me know by emailing me at rebecca@rwethereyetmom.com - thanks!