Happy Friday & Happy Holidays!!!!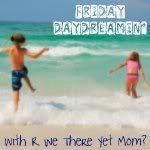 Anyone have time for a daydream or two? Check out
R We There Yet Mom's Friday Daydreaming
- an easy Friday post - post a pic of a vacation daydream - that's it!! Easy-Peasy! And this month, it can be all about the Holidays - trips, local events, yummy treats, wine - you name it! Go link up!
When the kids were younger and we lived up in Dallas, each year we went to the Adolphus Children's Christmas Parade the first weekend in December. It was (and still is) an incredible parade with amazing floats, big balloons (think Macy's Thanksgiving Parade) and Santa!! We bundled up, brought hot chocolate in our thermos, and loved every minute of it. The smiles on my kids faces each year was heart-warming!
How I miss that parade!