Happy Friday & Happy Holidays!!!!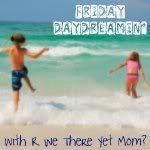 Anyone have time for a daydream or two? Check out R We There Yet Mom's Friday Daydreaming - an easy Friday post - post a pic of a vacation daydream - that's it!! Easy-Peasy! And this month, it can be all about the Holidays - trips, local events, yummy treats, wine - you name it! Go link up!
Our first Christmas here in Central Texas, the City of Austin put on this amazing Light show each year ~ The Trail of Lights ~ at the Zilker Park (the same place of the ACL Fest each year).
It was a lighted pathway through the park and it was FANTASTIC. And it was FREE. It unfortunately does not exist anymore (some mubo-jumbo about money). I was so very happy that we were able to see it at least once!!
Does your town have anything fun like this that you go to each year?
R We There Yet Mom
is looking for guest posters to post about Holiday events in their local area. Email
rebecca@rwethereyetmom
to tell us all about it!