Is school really starting in less than 2 weeks??? Can it be?? Wow- our summer flew by!!
These past few weeks since we have been home have been filled with PTA, Thirty-One (I became a consultant, y'all!!), and rearranging rooms. So when my kids come to me, saying they are
bored,
and
why can't we do something fun??
, I simply remind them of all we have done so far this summer.....
playing with dad at the beach....
trying new sweet treats.....
getting knocked over by the waves.....
experiencing the beach for the first time...
fun new experiences with mom & dad...
doing a rain dance and hoping it goes to Texas...
getting a "VIP" tour of the Illinois State Capitol...
learning all about Mr. Lincoln and rubbing his nose for good luck...
and laughter...plenty & plenty of laughter....
We had a fantastic summer!
Linking up with Things I Can't Say's Summer Fun Show-Off!!
A great way to re-cap your summer fun & possibly win a great prize!!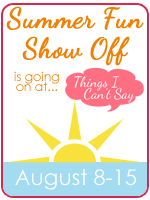 And if you had fun with this one, please link up tomorrow at
R We There Yet Mom?
for Friday Daydreamin'. Post your favorite vacation picture, link up with the party and spend a few minutes sharing in everyone's Friday Daydreams!!!