Happy Friday!! Are you burning up where you are?? As much as we in Texas are?? Seriously y'all, it has been 105-108 every day this week!! That is CRAZYCAKES!!! Needless to say, we remain indoors all day around here. Makes for boring afternoons.....
So this morning, I want to stay in my nice cool house with a big cup of coffee and look at all my favorite blogs. I have started a new Friday Blog Hop entitled "Friday DayDreamin'" over at
R We There Yet Mom?
and I'm hoping all my wonderful friends have linked up... (hint,hint).......(no pressure...)....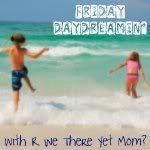 This summer, as we spent a few weeks in Springfield, Illinois, we did a number of fun things - we swam a lot, we ate a lot of horseshoes (what??!! More on that later), we watched all the Harry Potter movies, we even took a trip down to St. Louis to the City Museum again. But one of my most favorite things we did was Search for Abraham Lincoln. Springfield is the hometown of Mr. Lincoln, where he began his political career and there is so much to see and do. His home, his law office, the court house where he practiced, the depot he said goodbye to the city from, his tomb..... Springfield has done a fantastic job of preserving and educating. My kids, 10 & 8, enjoyed every minute of it and made me see how interested in history they really are.
We had such a fun time with all our "learning" and the kids really soaked it in. I think my favorite part of all of this was spending quality time with the 2 olders - we had a fantastic day!
I hope you link up in the blog fun - I am off to go and see some more "daydreams"!