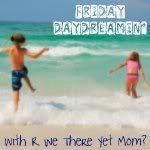 I'm linking up for another Friday Daydreamin' with
R We There Yet Mom?
. Last week there was only 5 vacation photos to visit - so I am really hoping to see more this week - I have my cup of coffee sitting here ready to dream away........
So, take a minute to admire my lovely vacation photo below, add a photo to your blog and link up! I promise you, it's the easiest Friday post you'll ever do!!
Now, let's take a trip down to Mexico......
I cleaned out my closet today. (just hang with me) And on one of my shelves, I found this perfume set that I had been given as a gift on a trip a few years ago. I had never opened it. I wasn't wearing much perfume at the time, I guess.
When I opened the gift set and smelled the scent, it took me right back to where I got it - this heavenly resort in Cabo San Lucas smelled of this scent. I probably sat on my closet floor for a good 20 minutes inhaling this scent and remembering this wonderful trip Matt & I took there. Margaritas by the infinity pool. Sleeping with the terrace door open to hear the waves crashing. Lobster dinner by the bay. Deep sea fishing. Many spa treatments. And this scent. This heavenly scent.
I am so incredibly happy that I have this perfume gift set. What a fantastic way to remember an awesome trip!!