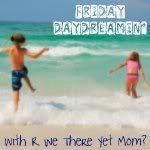 I think Friday is starting to be one of my favorite days of the week in Blog Land!! I have so enjoyed viewing all the Friday Daydreams over at
R We There Yet Mom?
. It has been a fun "escape"!!
This week, I am daydreaming about this past summer. Our summer is just about over here in Texas. We had our Teacher Welcome Walk this evening and school starts on Tuesday. We are going to take a quick trip out to the lake for one last hurrah, and then we are back to the "Darling Routine".
This was our first trip to a real beach as a family. We spent almost every day (
except when we were chasing after gators
) playing in the sand, leaping through the waves, and spending every single minute together as a family. We had such a wonderful time. We took home cherished memories of our kids that we will forever hold onto.
And as I sit here this morning, drinking my coffee in the quiet, I have a sense of peace knowing we made those special memories for our kids this summer.