Good Morning! It is shaping up to be a beautiful Easter weekend! I hope everyone takes the time to recognize all that God has done for you this weekend - sending his son, Jesus Christ, to die on a cross for us!
And in turn, I want to recognize all that I have been blessed with this week via
Mamarazzi's "Happy List"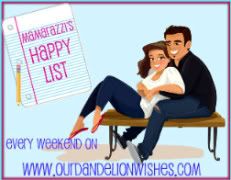 1. It's Easter weekend!!
My kids had Friday off - here in the south, we always get Good Friday off from school. When I was growing up, we called it "Good Friday", but now it is just a "spring Holiday". go figure.
Both older kids thought they got the day off for Earth Day - hmmmm - no.
Don't get me wrong, Earth Day is great - love Mother Nature - but since when does it trump the death of Christ? Not in this house.
Luckily, a few friends of mine shared this fun clip on The FaceBook this week and it got my kids back in the right frame of mind.
Please take a moment to watch it - it so adorable.....
2. Good Friday off playing with my kids!
We planned a HUGE photo scavenger hunt with friends in the neighborhood and finished the day with a swim in the pool with margaritas. It.Was.Awesome.
3. A Massage.
I won a massage from my personal trainer and y'all....it was the best massage ever!!! I don't take the time to get these very often and it was so wonderful. ahhhhhhhhhh
4. RedBox
- have ya'll discovered this??? So easy and only a BUCK!! We rented Love & Other Drugs. Good movie but what cracked me up the most was that the character was a Pfizer rep - and they nailed it. So outrageously funny the things he did....and so embarrassingly true.....
5. Found $$$$.
Hubby pulled a back pack out of the attice and while emptying it out, discovered a few travelers checks from a vacation we took in 2008. WHAT????? God just blesses us left & right in the best ways. Momma's going shoppin for some Easter shoes today!!!
It has been a really good week -- we are happy to have no commitments this entire weekend and spend time as a family.
Happy Easter to all!!
Christ is Risen!
He has Risen Indeed!!