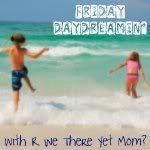 Happy Friday! Whew! We have a busy weekend with the School Spring Carnival tonight (my last as PTA President - bittersweet? nah), 2 Soccer games, and 2 Scout commitments. So before all that fun starts, I thought I'd do a little daydreamin.....
I am missing one-on-one time with my honey today.
We haven't been very purposeful and gone on vacation together without kids in a long, long time.
Excuses? We got 'um:
We want to do vacations with the kids, it's too expensive, we don't have anyone to watch them, or my favorite - we just end up thinking about how much the kids would like where we are and what we are doing. Blah...blah..blah.... I'm not gonna whine anymore.
We had an amazing Mediterranean Cruise in 2007 and this was our favorite stop. Portofino, Italy. We loved sitting on the patio with a glass of red wine. Life slowed down a bit and we relaxed and enjoyed each others company.
We will do this again. Soon.