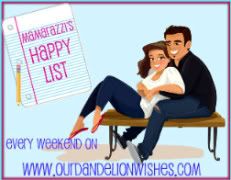 Happy Saturday! I was up super early this morning, as the sun comes up at the crazy time of 5 am in Illinois (what?????) and after 2 weeks of it, I can't sleep in past 6:30. UGH. So, 2 super big cups of coffee, one episode of Private Practice on the 'puter, breakfast made, and 30 minutes of iPhoto editing later.......
it's only 8:34.
did I mention it's Saturday?
So let's focus on Happy, shall we?
Mamarazzi over at Dandelion Wishes hosts a weekly Happy List that will easily sum up some of the fun we have had this past week while visiting family up in the Midwest:
Like eating GIANT pancakes
Watching how one yummy doughnut can turn a grumpy morning boy into a sweet thing (no pun intended).
Riding an indoor ferris wheel
and swimming every day in Grandma & PaPa's backyard.
As much as we miss Texas (been gone for 3 weeks now), we have truly relaxed while in Illinois. We have read books, played games, taken long walks, eaten way too much food (which just means I have to run MORE), and taken time to breathe with little responsibility.
We are so relaxed that Brody has let his guard down and had some really fun conversations with me - yes, we talked about how gold is discovered, shark attacks, and geo caching, but I'll take it. It was a really fun day with him.
And one more thing to add to my Happy List,
R We There Yet Mom?
was featured on 2 sites this week!!
Suitcases & Sippycups
featured our trip to Chicago last summer - Jessica has a fun blog showcasing her family travels - she takes awesome pictures too, so you can't help but be fascinated with what she & her family is up to. Check her out!
I was beyond happy!
So I'm off to more reading, swimming & eating - take a moment to reflect on what makes you happy this week!