It's Spring and Saturday and going to be in the 80's here today...what's NOT to like about this trifecta????
Nothing!!
So why not focus on what we have to be happy about this morning?? I went to bed grumbly, drained, and emotionally over this week. Woke up, got my 7 am boot camp in, and voila- Happy time. (seriously y'all - I have some major endorphins flowin this am)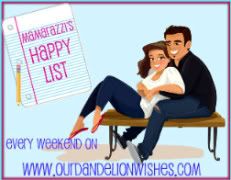 So I am linking up with Mamarazzi's Happy List....cause don't we all need to reflect and focus on what makes us happy in life?
So what makes me
Happy
?
I am
happy
to have a large cup of steamin' hot coffee with Caramel Macchiato creamer in my hand.
I am
happy
to have a great friend who also happens to be a terrific trainer do boot camp twice a week to keep me interested and motivated to work out.
I am
happy
to have a hubby who suggests we go to the DQ for blizzards last night - one reece's peanut butter cup blizzard = how many boot camps? Oh well.
I am
happy
to find out that
Bubba's spill last fall
did not permanently damage his 2 front teeth from the dentist yesterday. So what if they are a little jagged? It suits him.
I am
happy
that I finished 3 books this week - no, I am not a crazy fast reader, but had started them all previously. And I am
happy
that I am interested in a wide-range of books.....
Definitly Dead
by Charlaine Harris....
The Complete A to Z of Glee
...and
Decision Points
by George W. Bush.
What?!?
Don't judge me.
I am
happy
to have 10 friends running in the Capitol 10K with me tomorrow wearing matchy-matchy "Real Housewives of Round Rock" shirts. The back of each girlfriends' shirt has a different ending to this saying, "Will Run For......"
What do you think mine says???
And I am
happy
every time I look at this picture.
it just makes me giggle.
what makes you happy???