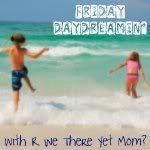 It's FRIDAY and it's FEBRUARY.....so it's time to see what you LOVE over at
R We There Yet Mom?
. Hop on over for Friday Daydreamin' and show us what you LOVE this week!
Again I ask myself- how do I show you what I love in one photo?? I LOVE so many things!!
One thing I really LOVE is exploring new places with my kiddos - it is the one reason I started R We There Yet Mom?? We love to do fun things together - museums, historical sites, fun eateries, geo-caching- we all have a blast. And quite honestly, I am going to do as much as I can for as long as I can while I still can with them - until they are way to cool to hang with mom.....
The City Museum in St. Louis, MO is one of the coolest places we have been together! You can spend hours at this amazing children's museum climbing, crawling, sliding, and exploring. Try to keep up with your kiddos and you will come home with skinned knees and bruises (I'm not as small as my 8 year old??? huh?). We laughed and giggled all day together. And those are the days that I LOVE.
Link up what you LOVE - we are dying to see it!!
Have a super weekend!!!