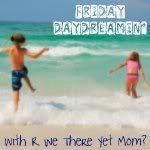 Yay!! It is my favorite day of the week in bloggy land - I LOVE Friday Daydreamin!! And I am LOVIN this month as
R We There Yet Mom
? is asking us to post a picture of a place you LOVE for Friday Daydreamin'. So super easy and so fun to visit all the places everyone LOVES to go to!
Our family LOVES to go to Disney World. We love the rides, the characters, the parades, the food, the atmosphere, the fun - the whole package that makes it "magic" for the kids. We LOVE escaping the real world and playing as a family for a week. This picture was from 2006 - Brody had just turned 4 and it was his first trip. He wore his "Happy Birthday" button all week and was treated like a Prince. Such a Happy trip that we LOVED!!!
Where or what do you LOVE? Show us a picture and link up!!