I am so excited to share with you all my new website for my business, Darling Memories:
www.darlingmemoriesdvd.com
If you recall, Darling Memories creates darling DVD photo slideshows for every occasion......80th birthdays, 50th wedding anniversaries, baby's first year of life, wedding rehearsal dinners, graduating high school seniors, family reunions, vacations, and so on. I have been blessed to have created a few before Christmas and am now attempting to go at it in full force.

Please take a look at my site, tell me what you think, and keep me in mind if you have any fun occasions coming up. The best form of "advertising" is word of mouth from friends, so pass my info along to anyone you think might be interested!

Also, I'd like to mention my dear friend, Jessica, who did an amazing job with the
Darling Memories
website, as well as this blog for the Texas Darlings. You can find her at
The Frilly Coconut
. She is affordable and her designs are unique. Not to mention, she is incredibly reasonable and so easy to work with!! Go and visit her site- she has an amazing blog design giveaway going on right now!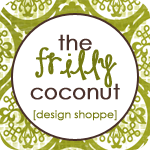 Thank you for all of your love & support in my new business venture- I am so excited to have found something I love to do!!